---
[ Art Gallery | Auspals | Australia Day | Christmas | Cuisine | Colour In ]
[ Slang Dictionary | Fauna | Find an Aussie | First Fleet | Free Graphics ]
[ In General | Meet an Aussie | Famous People | Poetry ]
[ Text Only | Time Continuum | VPals | Join Webring | Win an Award | Top 50 Sites ]
[ Link to Us | Sponsor Us | References Used | Who are We? | The Future ]
[ What's New | Contact Us | Feedback | Site Map ]
[ Culture ] [ Education ] [ Kids ] [ People ] [ Flora and Fauna ]
[ Just for you ] [ History ] [ In General ] [ Meet an Aussie ] [ Online Australia ]
[ Search ] [ Site Map ] [ Index ] [ What's New ] [ Virtual Australia ]



This site was awarded the
Study Web Academic Excellence Award
Problems/Broken Links can be reported to
webmaster@virtualaustralia.com.au
The owners and authors of this website are not of indigenous descent - and therefore will not provide information on the indigenous viewpoint. This is best left up to the authors of Indigenous websites. We would not want to offend a wonderful culture by writing something incorrect.
All text and graphics unless otherwise stated are ©1998-2000 Virtual Australia CyberNet.
If you believe any of the graphics or text to be copyright to you, please email us to discuss the matter.
All rights reserved. No part of this site may be reproduced in any form without the express permission of the owners of
Virtual Australia CyberNet or the copyright owners of the included information.
Any offenders will be prosecuted to the full extent of the law.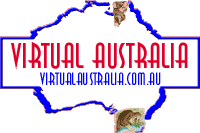 Proudly sponsored by