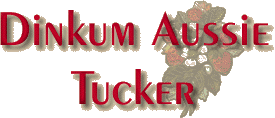 The Dinkum Aussie Tucker section includes some of the more famous Australian foods, a little on their history and some personal comments about the products. We hope you enjoy!
[ Vegemite | Lamingtons | Cadbury Chocolates | Arnotts Biscuits ]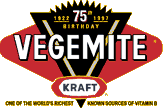 Vegemite is as Australian as you can get. It is a thick black sandwich spread which tastes delicious, once you know how to use it properly. The great Australian joke is to send someone overseas a jar of vegemite and tell them to eat it by the spoonful or to slather it on to a piece of bread and eat it that way. Well - all this does is bring people to their knees in tears!
Vegemite is supposed to be spread very thinly on pieces of bread with butter - or on toast with butter. The first taste of vegemite may come as a shock to some people - but once you've gotten over the initial twang - its YUMMO!

The History of Vegemite
Vegemite is yeast extract. It is one of the richest sources of Vitamin B you can find in the world and is a great (though teary-eyed) cure for mouth ulcers!
In 1922, a young Australian by the name of Fred Walker, decided to try to make a special "yeast extract" that would be as delicious as it was nourishing. Dr. Cyril Callister, a chief scientist in Fred's company "invented" the first yeast extract spread. He used brewer's yeast from Carlton & United Breweries, and blended the yeast extract with ingredients such as celery, onions and salt to make a thick dark paste.
In 1923 a trade name competition was held to find a name for this new product, Vegemite was chosen. Throughout World War II, soldiers, sailors and civilians were all given Vegemite in their rations and it became so popular it fell into short supply.
Fred Walker and Company Pty Ltd became Kraft Foods Limited in 1950 so Vegemite is now Kraft Vegemite.
It celebrated its 60th anniversary in October 1983. To mark the occasion, a plaque was placed opposite the site of Fred's original factory in Melbourne.

The Vegemite Song
We are happy little Vegemites as bright as bright can be,
We all enjoy our Vegemite for breakfast, lunch and tea,
Our mummy says we're growing stronger every single week,
Because we love our Vegemite,
We all adore our Vegemite,
It puts a Rose in every cheek!
We're growing stronger every week!
Listen to the Vegemite Song
If you haven't had the pleasure of tasting a fresh cream and jam filled Lamington yet - then you don't know what your missing! These are some of the yummiest cakes in the world.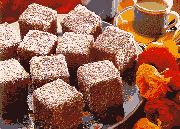 Traditionally lamingtons are made with a white sponge cake with a center of strawberry or raspberry jam. Most times though, you will find Lamingtons without the jam, or with fresh whipped cream instead of or combined with the Jam. Try all three - they are all YUMMO!
The History of Lamingtons
Lamingtons were named for Baron Lamington, Governor of Queensland in the late 1800's to early 1900's. Originally slang for the homburg hat which was worn by the baron, the lamington became known as a small square of sponge cake that was carefully covered with chocolate icing and lovingly sprinkled with dessicated coconut.

a glass and a half in every block
Cadbury is Chocolate is...
Cadbury is one of the best Chocolate makers in the world! It is also a very helpful and environmentally friendly company. From fundraising solutions through to helping our schools raise our children's knowledge of our environment via the use of the Cadbury Yowies - Cadbury is chocolate is... Cadbury!
Some of their most popular products at the moment are the Cadbury Yowies. The Cadbury Yowie is a hollow chocolate fellow who is filled with an egg that contains a little Australian animal toy to make and play with. Along with the toy comes a history of that animal. They are great little critters to raise the knowledge of our wildlife and what we can do to help our environment.
The Yowie is the Australian version on the yeti - a mythical, large, ape-like man. Meet the six Cadbury Yowies and discover where they come from by clicking on them!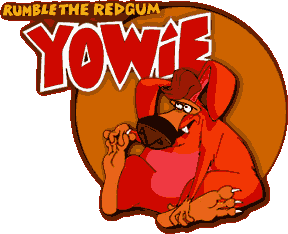 Rumble Yowie
lives in the Desert

Only the hardiest plants and animals can survive the hot, windy, dry desert. In some desert regions, there is no rain for years. Deserts can also be extremely cold at night.

On the edges of deserts you may find large grassland plains, where dry, tough grasses and plants offer food and shelter for many creatures.

Click on Rumble to learn more...

All text and graphics are ©Cadbury Australia Pty Ltd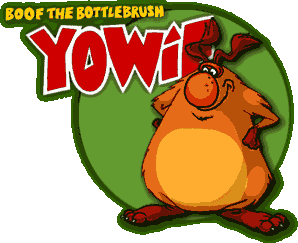 Boof Yowie
lives in the Rainforest
Rainforest grows in areas where there is at least 1300mm of rainfall a year - that's a lot of rain!
Insects, animals and trees all depend on each other in the rainforest. They work together as part of a life cycle.
Click Boof to learn more...
All text and graphics are ©Cadbury Australia Pty Ltd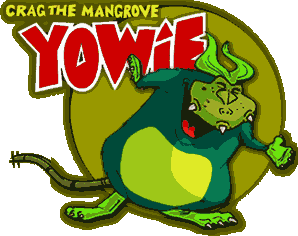 Crag Yowie
lives in the Wetlands
As you might guess from the name, wetlands are areas of land that are wet!
Marshes, swamps or peatland are all examples of wetlands. Some Wetlands are only formed when rivers flood, others are permanent and stay wet all year round.
Click Crag to learn more...
All text and graphics are ©Cadbury Australia Pty Ltd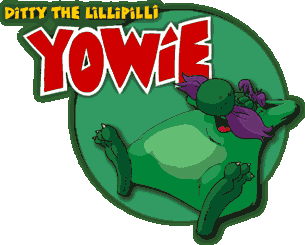 Ditty Yowie
lives in the Woodlands
The woodlands are made up of grassy areas where trees grow. The rainfall is between 200-600mm a year.
Click Ditty to learn more...
All text and graphics are ©Cadbury Australia Pty Ltd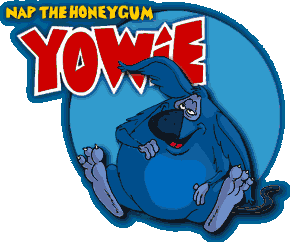 Nap Yowie
lives in the Bushland
The Bushland is full of native plants, trees and animals.
Many birds, mammals and insects live on the nectar and pollen of the native plants found in Bushland areas.
Click Nap to learn more...
All text and graphics are ©Cadbury Australia Pty Ltd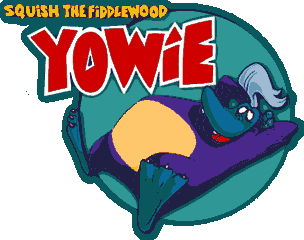 Squish Yowie
lives near the River
Waterways are made up of rivers, lakes and coastal waters. If you have a look at a map, you can see how one river flows into other rivers, streams, lakes and the sea. This is called a river or waterways system.
Click on Squish to learn more...
All text and graphics are ©Cadbury Australia Pty Ltd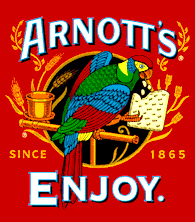 Arnott's is more than a biscuit company, it's a part of Australian culture. With biscuits like Tim Tam, Iced Vovo's, Mint Slices, Tiny Teddies and Kingston, there wouldn't be a pantry in Australian that doesn't have an Arnotts biscuit in it!


Tiny Teddies

History...

In 1865, a small retail bakery opened in Hunter Street, Newcastle, north of Sydney. It supplied bread, pies and biscuits to the local townspeople as well as to the crews of the many ships that docked at the port to load coal. From these humble beginnings rose a company whose name is now synonymous with biscuit-making in the South Pacific. This is the story of that company, Arnott's Biscuits Ltd, and its founder, William Arnott - a man whose passion for his business led him to create one of the most successful and enduring biscuit making operations in the world.

Today, Arnott's employs thousands of people and supplies biscuits to more than 40 countries around the globe. Millions of Australians have grown up on Arnott's biscuits and for them, Arnott's is more than a biscuit company, it is a piece of Australia's history.

For more information on Arnotts History please visit


Text and Graphics ©Arnotts
If you have a genuine Australian product you think should be listed here
please submit your ideas or information
[ Dinkum Tucker ] [ True Blue Recipes ] [ Aussie Specialties ] [ Conversion ] [ Australian Bush Food Menu ]